Rounding Up Games
Rounding Up Numbers to Nearest Ten Game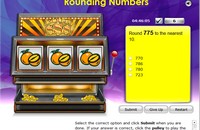 3rd grade rounding up numbers to nearest ten game for kids.
Round Up Numbers Nearest Ten and Hundreds Game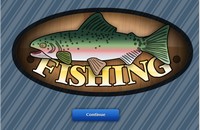 5th grade round up numbers nearest ten and hundreds fishing game for kids.
Round Up Decimals to Nearest Ten Game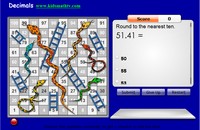 6th grade round up decimals to nearest ten game for kids.
Rounding Up - rounding a value is when you keep the value close to what it was, but turn it into an easier number to remember. This makes the final result less accurate, but is easier to use. Here we will teach children how rounding up a number works, and what methods can be applied to simplify a value. We will educate children on various methods of rounding up, for instance, half round up, half round down, negative numbers, half round up with negative numbers, half round down with negative numbers, symmetric rounding, round half away from 0, round half away towards 0, round to even number, round to odd number, round randomly, etc, basically there are many numerous methods you can use, but we will focus on teaching children the most basic ones. We have categorized levels of difficult according to grade, and you can pick the level that will be perfect for your child.